Prepare to have your senses assaulted. Today we hit Mumbai alone to explore the back streets and markets on foot. We caught the ship's shuttle bus to the gate of the port, a trip of a few kilometres (it's a very big port area) and walked toward the town centre. We quickly decided to buy a local sim card, as we had been having very little luck picking up Wi-Fi. On the rare occasion that we saw Wi-Fi advertised on a café or restaurant you needed an Indian phone number to register to get the Wi-Fi. So $14 dollars and passport and visa checks, and photos of me and the seller later we had 30 days of Indian data available (and we were leaving India in 6 hours!) We now had maps and the kids could chat to Logan and Le. The people we encountered were all so helpful.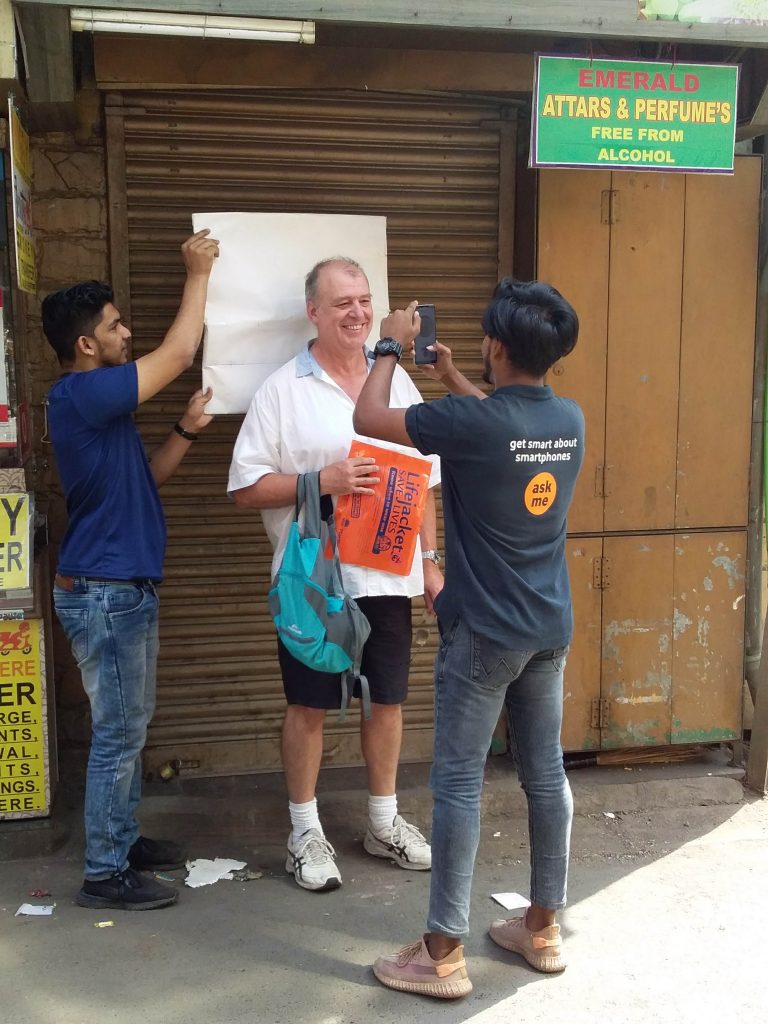 We next headed for Victoria Terminus, a huge train station. From the outside it's majestic and from the inside simply massive. We watched a few trains come and go – much busier than yesterday when we were on a train – and then headed for Crawford market, which was a local market and one of the biggest in Mumbai. No entrance was evident, just narrow alleyways leading into darker alleyways. A spice seller could see we were having trouble and directed us how to get in – and how to get to his spice shop. We wandered past fruit and vegies, laundry supplies, birds and animals in cages and lots of spices and lollies. The scale of the place was incredible. I'm sure we saw only 5% of the place before moving on.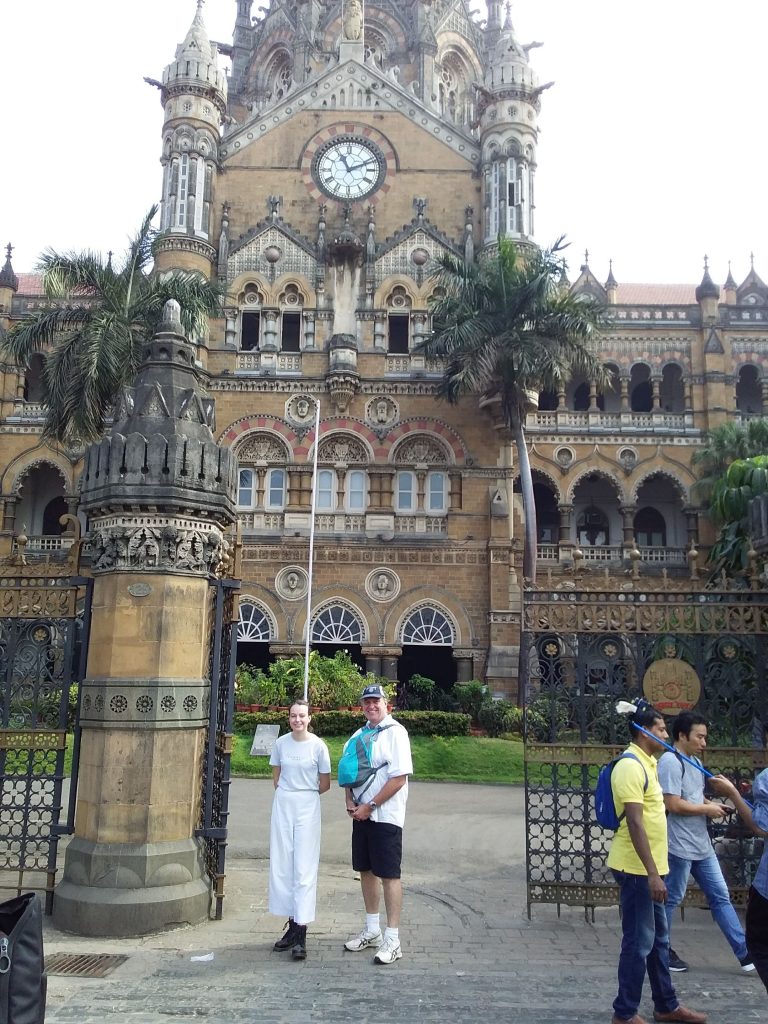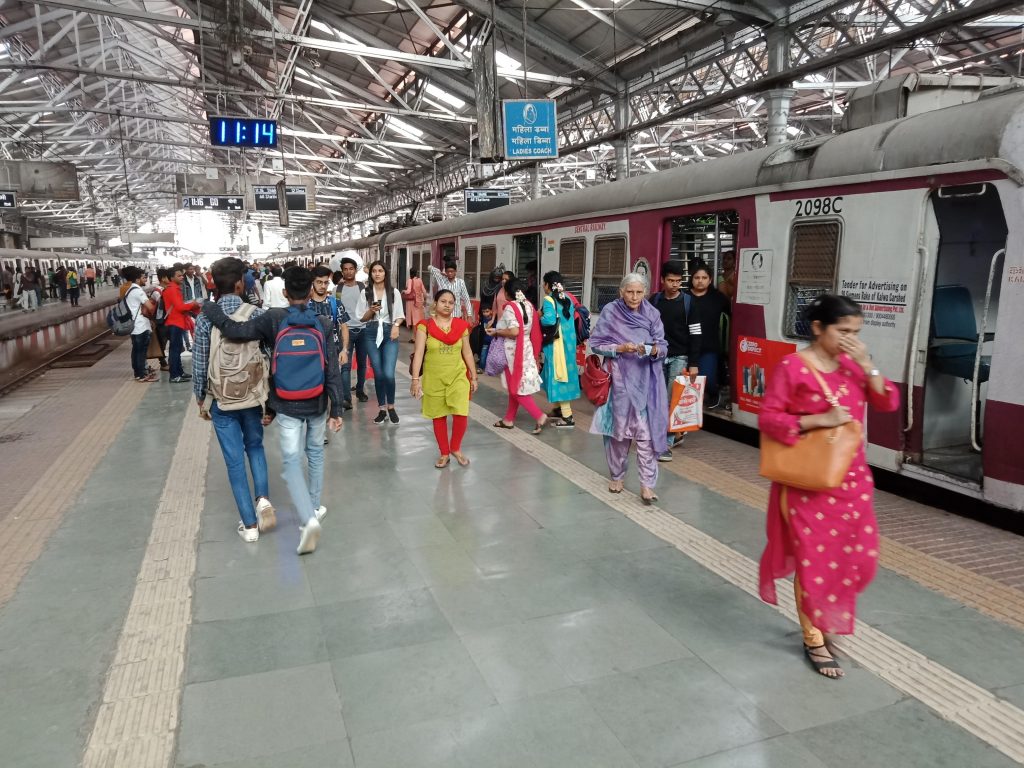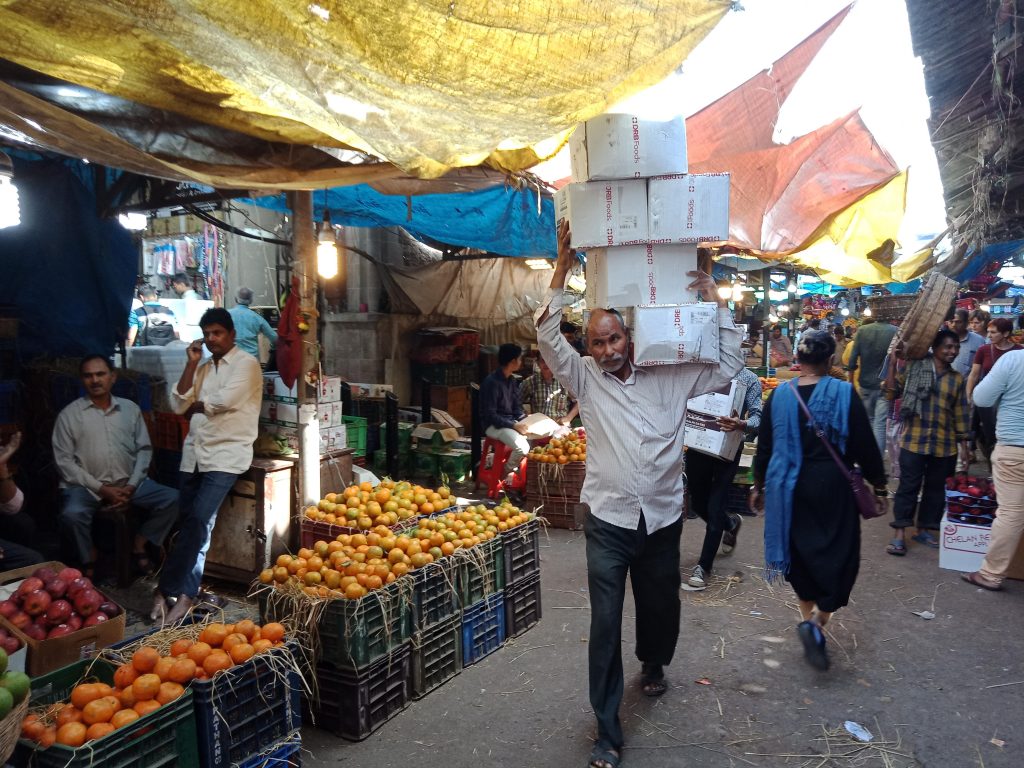 We then attempted to head to Chor Market or the Thieves Market, about 2km away. It doesn't sound far, but the streets were difficult to move through quickly. Our route took us through some totally amazing neighbourhoods and shopping districts, including hardware districts, steel pipe and steel sheet areas as well as all manner of food and catering supplies. The streets were jammed with motor bikes and taxis and people delivering goods on their head and on long trolleys. Some streets were almost impossible to walk, they were so crowded. Because we had escaped the tourist route there were no hawkers, touts or beggars. We were left in piece and sometimes helped with directions when locals saw us contemplating the phone for the next turn. When Mr Google said we had arrived at Chor Market there was nothing marketlike to be found. Some locals gave us directions, but we never found the market. We did however stumble into the metal working centre of Mumbai. Tiny workshops, open to the street (maybe street is exaggerating – maybe narrow broken paved lanes is a better description) with huge lathes, and furnaces heating metal to be pounded into shape and welding and cutting. All of this performed by men in thongs and no protective gear at all. Quite incredible to see, and something I'm sure few tourists would ever see.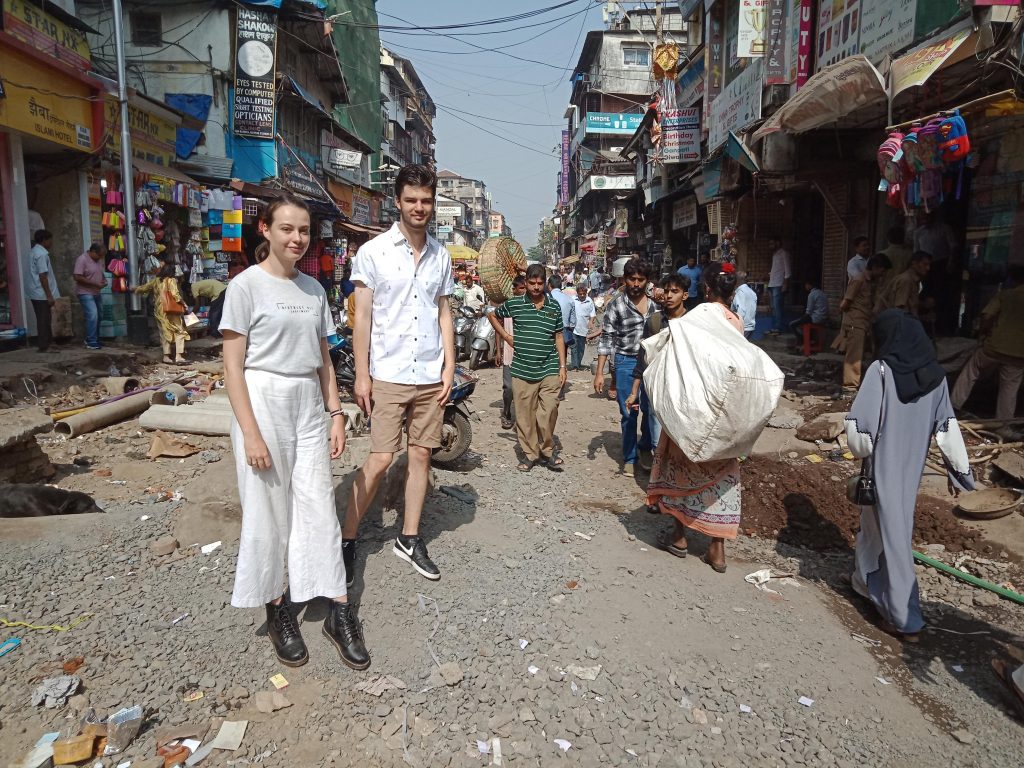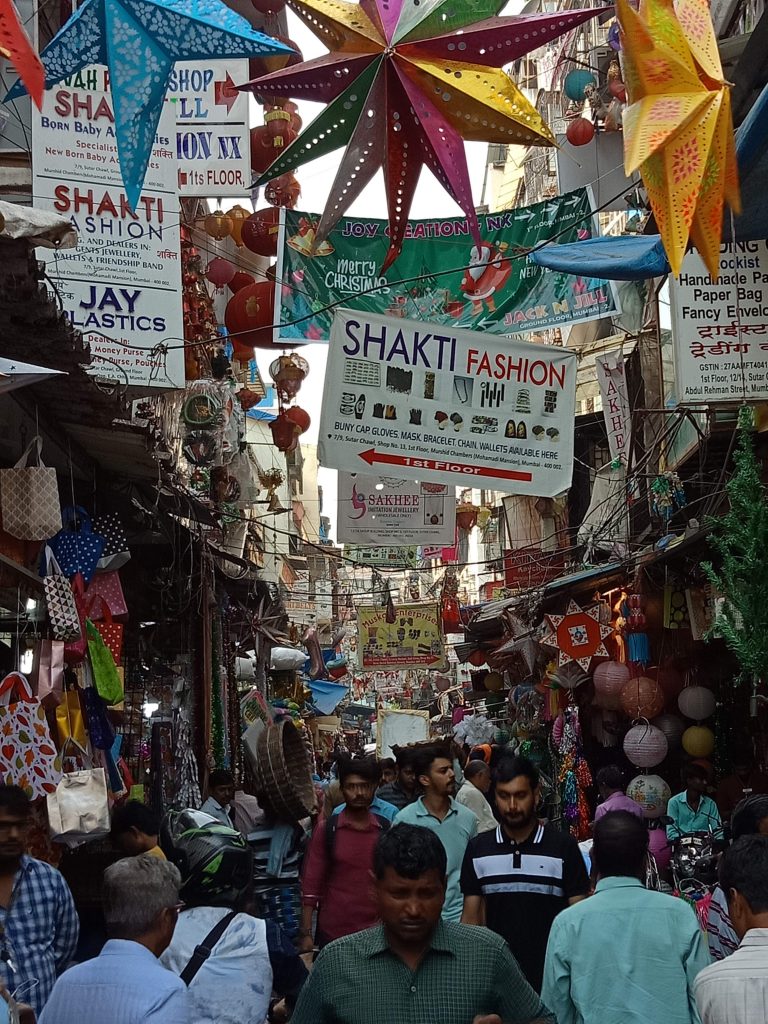 As we emerged from that area we entered ceramic tile land…. Endless shops selling tiles. Then bathroom fixture land. Still the streets were narrow, often blocked by someone manoeuvring a trolley full of goods, and once or twice a cow. The major roads were almost impossible to cross, with a local stopping traffic for Carol at one stage when she hesitated as the rest of us dodged trucks and taxis. There were also goats on the street and even a rat sitting in the gutter at one point. I think we saw the real Mumbai.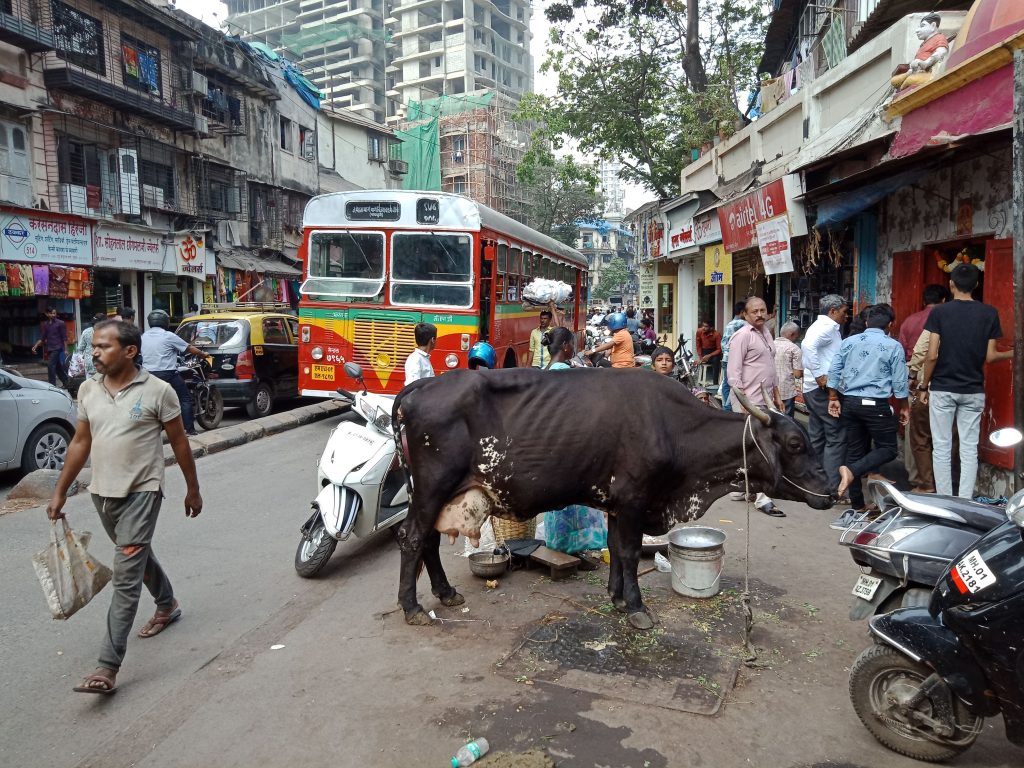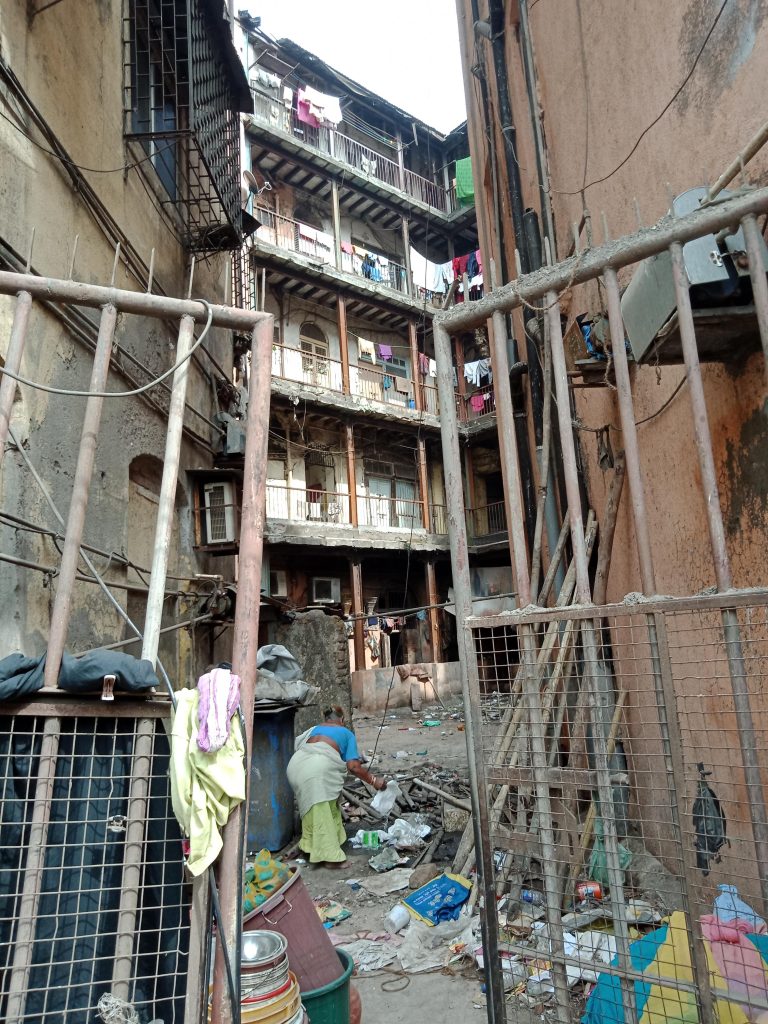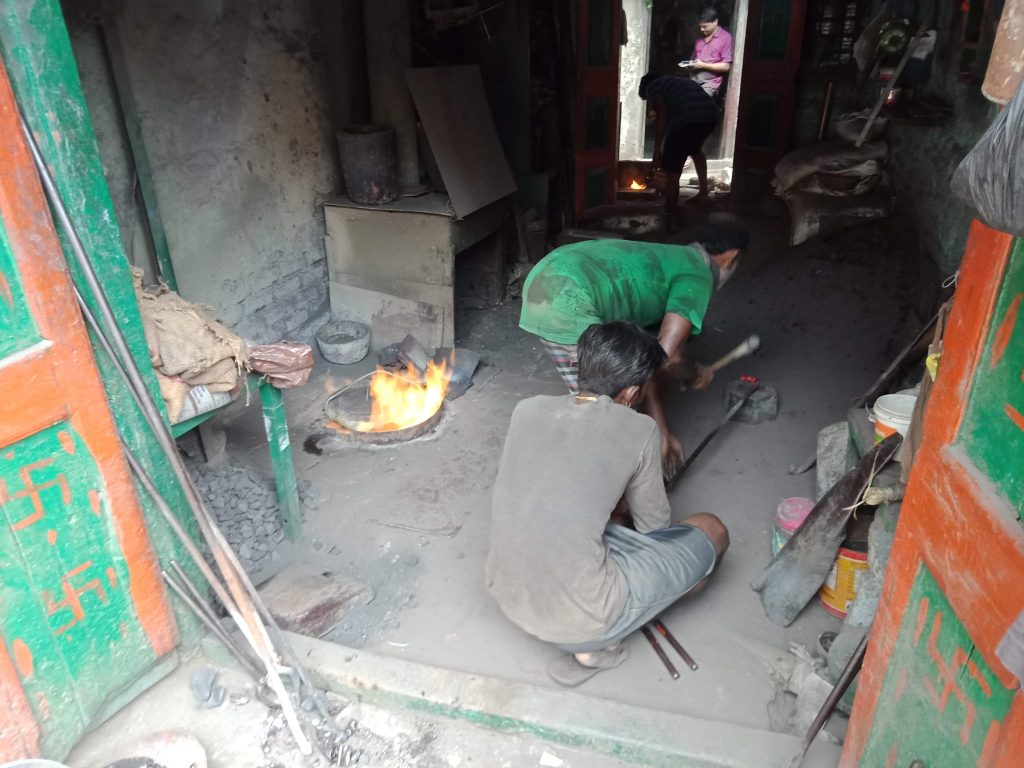 Emerging from the city centre we were eventually back at Victoria Terminus, just a shortish walk from the port entry where the shuttle would be. Throughout all this time there was never a place to stop and sit and rest, and nothing that we would call a café where we could sit and relax for a while, so we were hot and tired by the time we returned to the ship at around 3 o'clock, but with memories (and hopefully photos) that will last a lifetime. We didn't even get to do any souvenir shopping, such was the nature of the areas we were in.
Back on board we had a drink as the ship set sail around 4pm. Next stop Dubai in about 60 hours. The show tonight was some musical wanna-be who had a lot less talent than the ship's band who were supporting him.